Disclaimer for those unable/unwilling to take responsibility for the consequences of their actions: I do not recommend you modify your PHEV in anyway.
(This mod will reduce the power of the vehicle mentioned in specifications to electric only. Sudden outburst of engine power won't be available. If ICE power is required the vehicle should be stopped, turned off and on again with Modification disabled.)
This mod is for all who want to have an vehicle like it is advertised and an full Electric mode can be chosen regardless of Mitsubishi desires to make the vehicle foolproof and universal for every single user while reducing the warranty claims regarding ICE cold starts. Like everyone can guess Mission Impossible.
Like most of us already know different regions and vehicle models have different programing and they behave differently. This Mod is for all that can't prevent ICE startups in even mild cold weather (under 5 Celsius / 40F) by meaning of preheat, special startup sequence, not using the HVAC system and etc.
Nobody needs an warmed up engine prepared for sudden need of power and acceleration on their short commutes in residential areas. Total waste of gas, engine resource and wear.
Mod specs:
Pros: Full electric vehicle, no ICE.
Cons: Few errors on the dash (check engine as well), no guess-o-meter, battery level bar works as it should though. (see pics below)
Errors on the LED display will disappear after restart with the Mod deactivated. Check engine light (errors) can be cleared with an OBD-II scanner.
HOW TO:
The Mod is disabling the main engine relay A-X19 by installing a switch or remote switch on relay circuit that controls it.
For all that want to try without the hustle of installing switch they can simply pull out the relay.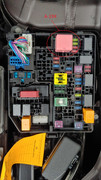 Schematics of the mod (one RF switch and one normal rocker switch for a bypass)
Only RF or rocker switch can be used as well. The RF switch need an power.
What you have to do is basically install an switch on the relay pin (small one) that is facing the front of the vehicle. All other pins should be connected directly to their corresponding socket slots. Power can be drawn from the opposite small pin of the relay facing the back of the vehicle. Couldn't find an suitable ground in the fuse box so left an thin wire pinched by the fuse box cover connected to the closest ground.
The RF switch when off consumes 5mA when on 40mA.
I have connected the RF switch on normally closed contact.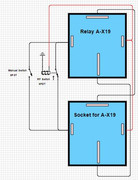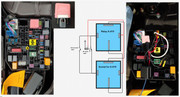 Errors on the dash: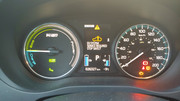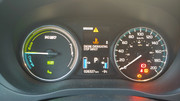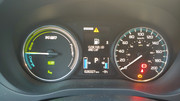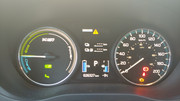 Some videos of the dash:
2018 Outlander PHEV kill Engine Mod-hack (Dashboard errors & screen tabs)
2018 Outlander PHEV kill Engine Mod-hack (Dashboard errors & screen tabs) part 2
What you will need beside basic wiring:
One
80 Amp relay socket
(optional you can do it with terminals only)
Two
Two 9.5mm Crimp Terminal Male Spade Connector
Two 6.5mm Crimp Terminal Male Spade Connector. (Same but smaller)
One
433Mhz Universal Wireless RF Remote Control Switch 12V 1CH
One
Rocker Switch
(optional)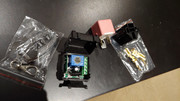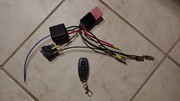 Final result fitting under the fuse box: